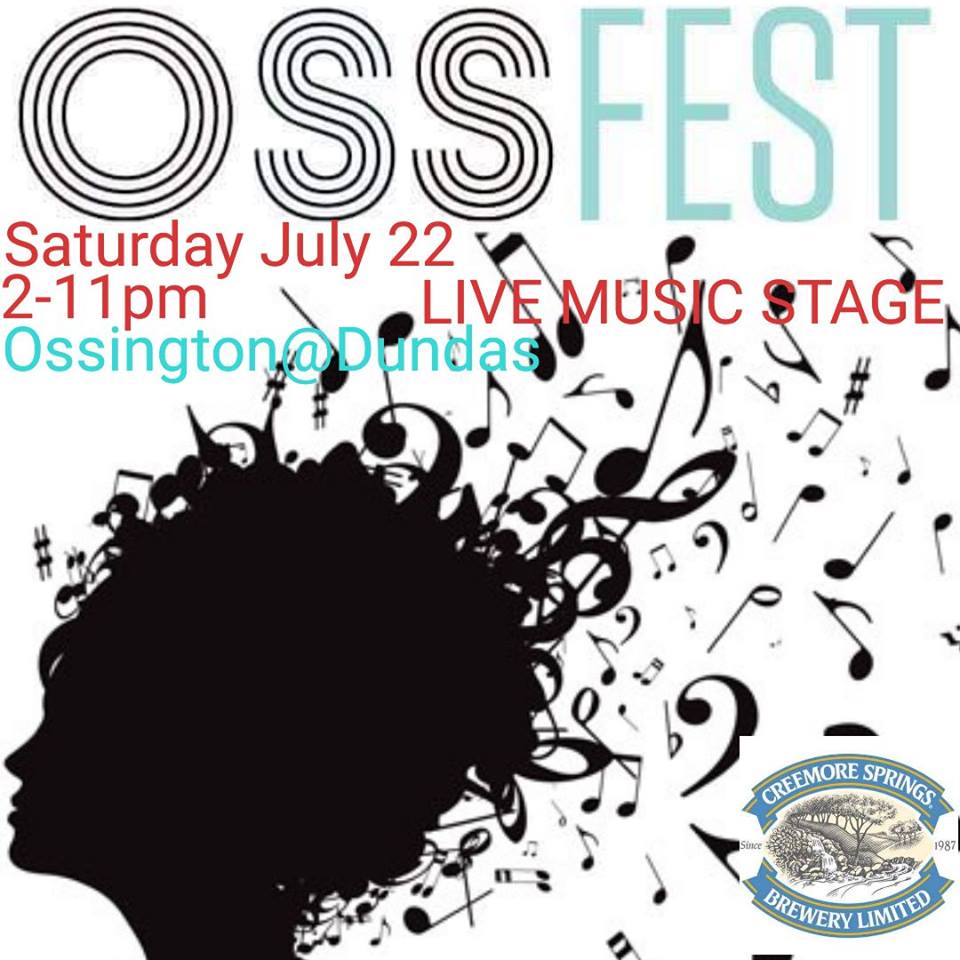 Ossfest #2 is this Saturday, July 22nd. We've got a little more information on the schedule of events and what to expect at Ossfest 2017, brought to you by the Ossington BIA!
Ossington Crit
The Ossington Criterium
is a series of bicycle races on the lower part of Ossington beginning in the morning of July 22nd.
The loop is consistent with last year's race, running on Ossington north of Argyle and turning east on Halton, south onto Givins and back to Ossington via Rebecca. The start and finish line is on Ossington just north of Argyle Street.
The kids race is a 400K run straight up Ossington from Rebecca.
Schedule is as follows:
6am Registration opens
7:30am Senior 4, Master 3/4 and Cadet Men
8:35am Senior 3, Master 2 and Junior Men
10:45am Free Kids Ride!
11:35am Elite, Masters and Junior Women
12:30pm Senior 1/2 and Master Men
2:30pm Awards
Expect the streets that are part of the race to be blocked off – with no street parking – as of late night Friday. If you live on those streets, you'll receive a notice in your mailbox, but if you don't – here's your notice!
Those looking to register in advance can do so here. Registration will be available on site minimum 30 minutes before each race.
---
Ossfest Live Music Stage
The Ossfest music stage will be at Ossington and Dundas up near The Painted Lady. First show starts at 2pm and the live music goes until 11PM. The long list of performers showcases a variety of local talent in the folk, jazz, blues, and rock genres.  Here's the Ossfest 2017 live music schedule for Saturday:
---
Update: Redbull Stage
The music stage at the south end of the strip, at Ossington and Rebecca, focuses on beats and DJs. The music starts at 3PM and ends at 11PM.
Schedule:
---
Other Happenings at Ossfest 2017
We know there will be patios, so come to Ossfest 2017 hungry – and thirsty – because all the great restaurants and bars on Ossington will want to feed you!
Crywolf Clothing is offering silkscreening workshops so you can walk away from the fest with a custom made shirt! The indie shop is also celebrating 4 years in business with big deals on site.
Reigning Champ will host basketball training after the races end.
Tiger of Sweden has a Steamwhistle patio with snacks and giveaways from 1-11pm
Anice Jewellery has a tent and will be making custom jewellery and cocktails inside it!
---
There will be lots more to do, and we will add to this list as we hear about it. Remember last year's Ossfest through our photos.