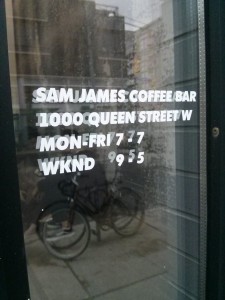 There's another new coffee joint on Ossington. Sam James Coffee Bar opened today at 1000 Queen St, the same building as Stussy.  The entrance to Sam James is on the Ossington side of the building, taking over an underused space. The entrance isn't well marked, so keep your eyes open for the small sign on the door.
This is the fourth location for Sam James, having started on Harbord, and expanding his operation to two other locations, one in the financial district and the other near Christie subway station. Sam and his coffee are also very well known in the local restaurant community as a suppliers.
The new location is small, lacking tables or seats – thus focusing on the quick coffee to go – but there are a set of steps to sit and sip a coffee and talk with friends and locals. A small selection of baked good and beans for home brewing are also on offer, but the focus is on the tight menu of coffee basics – lattes, americanos, espressos etc.
Here's a few photos from today's opening: