There are some special events and dining deals coming up which we thought you should know about.
Two Ossington restaurants are planning big meals and there's still time to reserve your place.
The Saint is hosting "An Ode to Beef" next Tuesday, May 12. Their own chef Jesse Valins will collaborate with British chef Richard H. Turner of London's The Hawksmoor, which is known for it's steak. The dinner is a 4 course tasting menu, pairing All-Canadian beef with beer from Sam Adams. Tickets are $85 pp before tax and tip.
Later this month, Boehmer is holding a 6-course wine dinner, pairing the food with Sonoma Pinot Noirs. The dinner is May 27 at 6:30PM and costs $190 pp plus taxes.
If you haven't visited La Saucisserie yet, since it just opened last week, tomorrow is a good time. They are having a grand opening party starting at 7PM Saturday, May 9, with drink and food specials and a DJ.
Bellwoods Brewery is continuing their guided tastings on Tuesday evenings only, from 5-6:30pm and include 4 draft samples, charcuterie & cheese, and a delicious selection from their reserve bottle list. Spots are $35/person, with a max of 8 per tasting, email them soon because these tickets go fast.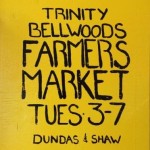 Let us know via Twitter, Facebook or the comments if you hear about any other special events.
And don't forget, the Trinity Bellwoods Farmers Market is back on Tuesdays from 3-7PM.
In conjunction with the Farmers Market, Le Dolci's market class is back. Let Chef Michael Hunter take you through a fast paced evening of shopping at Trinity Bellwoods Farmers Market and making a 3 course meal back at their studio. It looks like they're offering it once a month, and the May 26th episode is already sold out, so check their calendar to book.