We're losing art galleries on the street. Established art gallery AWOL Gallery, is closing up at 78 Ossington, and Oz Studios also closed at 134 Ossington this spring.
AWOL just finished its last show, after 15 years on Ossington, and they don't know where they are going next. We guess that rising rent is why they are leaving: check out the official facebook post for more information. AWOL had many many interesting exhibits over the years, and the owners and artists were always friendly and welcoming. They also hosted some fun pop-ups, sales and more. One of our favorite AWOL events was the Annual Square Foot Sale - every piece of art for sale was one square foot and priced at $225, featuring a wide variety of artist from the city. It was a fun and accessible event, something AWOL has a knack for creating. We are happy we got to experience some of their shows over the years and hope they find a new place so we can continue to visit.
This spring, we lost another gallery when Joe Fuda closed up Oz Studios at 134 Ossington, He was a busy man in the 4+ years he was open, hosting art shows (his own and others), performances, pop-ups, inventions,  and lots more. He even published a book and invented the Spinogram during his tenure. Check out his TUMBLR site for a photographic history of Oz Studios. We still follow him and he will remain on our Twitter list.
We don't know what is going to be filling the voids or the spaces left by these two notable businesses on Ossington. However, we do see signs – real world signs – of a change happening at 1166 Dundas West. Formerly home to a clothing store named Linalgo – here's the google maps photo: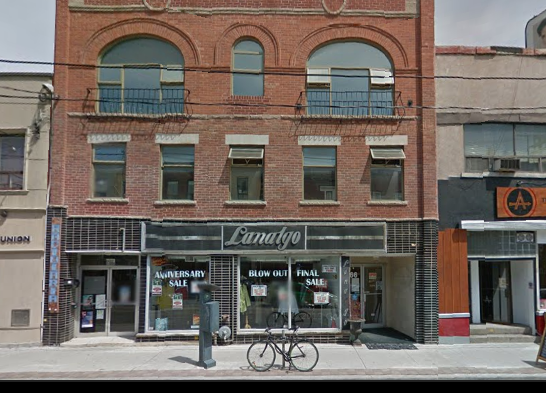 This large retail space is being converted into a restaurant or bar – the sign on the window a liquor license application for a venture called "The Contender."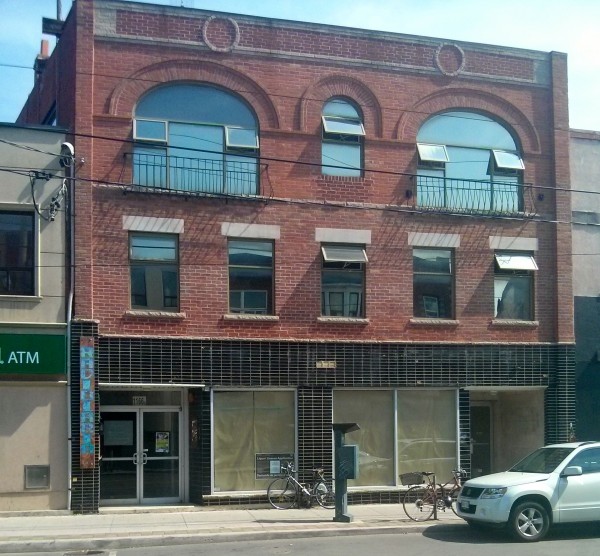 Is it a sports bar with a focus on boxing? Let us know if you are involved with or have any information about "The Contender".